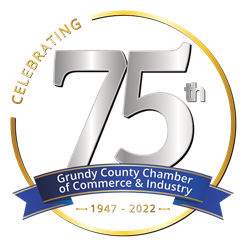 Grundy County Chamber of Commerce & Industry
The Grundy Chamber of Commerce and Industry provides a multitude of services to our communities, but our #1 priority is our members.
 To find out more information on the Coronavirus to keep you and your employees informed, please visit HERE.
MORRIS – This year's Grundy Bank Brown Bag Hot Dog Eating Contest is just around the corner and I am sad to say after what I believe has been eight years, I will not be participating this year. In all honesty, there just isn't enough room in this belly of mine at 34 weeks pregnant…
MORRIS – Drusilla Banks, Nutrition and Wellness Educator with the University of Illinois Extension, presented at the most recent Women in Business Luncheon on Wednesday, April 26 held at the Quality Inn in Morris. She spoke about organic, natural and local food. Banks explained that sales of organic foods have continued to grow and now…
MINOOKA – A large turnout gathered to celebrate at the Grundy Economic Development Council and the Grundy County Chamber of Commerce & Industry's Annual Dinner held March 22 at Chapin's East in Minooka. More than 275 business and municipal leaders, and guests were in attendance to recognize the organizations' award winners and celebrate a successful…
A few of the benefits available to those businesses that invest in their company by joining the Chamber...
Are you ready?
Extend your business reach by joining the incredibly successful Grundy County Chamber of Commerce
Are you ready?
Extend your business reach by joining the incredibly successful Grundy County Chamber of Commerce
2022 Family Fest Sponsors