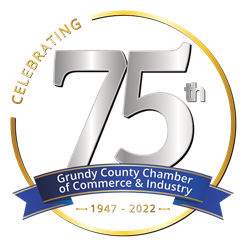 Grundy County Chamber of Commerce & Industry
The Grundy Chamber of Commerce and Industry provides a multitude of services to our communities, but our #1 priority is our members.
 To find out more information on the Coronavirus to keep you and your employees informed, please visit HERE.
MORRIS – Mayor Chris Brown and the city of Morris partnered with the Grundy County Chamber to present the city's first State of the City Address June 22. To celebrate Brown's first official address as mayor, numerous sponsors stepped up to support this Chamber event including presenting sponsor The Stenger Devermann Group at Morgan Stanley;…
Due to the extreme heat expected next week, we have moved the location of the Morris State of the City Address to the Morris Country Club, 2615 U.S. Route 6 in Morris. The event is still from 5-7 p.m. on June 22. You casual summer attire is encouraged to accommodate such a hot day. Registration…
As the Grundy County Chamber of Commerce & Industry celebrates 75 years of building, connecting and engaging our business community, we are recognizing some of our longest members who have helped us to succeed. The Downers Grove Sportsmen's Club was founded 72 years ago on about 60 acres in unincorporated Downers Grove. With the need…
A few of the benefits available to those businesses that invest in their company by joining the Chamber...
Are you ready?
Extend your business reach by joining the incredibly successful Grundy County Chamber of Commerce
Are you ready?
Extend your business reach by joining the incredibly successful Grundy County Chamber of Commerce
2022 Family Fest Sponsors