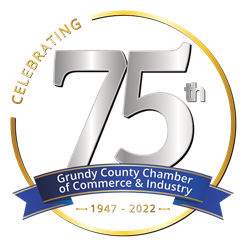 Grundy County Chamber of Commerce & Industry
The Grundy Chamber of Commerce and Industry provides a multitude of services to our communities, but our #1 priority is our members.
 To find out more information on the Coronavirus to keep you and your employees informed, please visit HERE.
Due to the continued decrease in COVID-19 cases and hospitalizations, and increase in available ICU beds, the Illinois indoor mask requirement has ended today, Monday, February 28. Since the Governor announced his plan to lift the indoor mask requirement, the number of people in the hospital with COVID-19 has been cut in half and the…
COAL CITY – This year marks the fourth year for a Galentine's Day shopping event in Coal City, Diamond and Carbon Hill. Galentine's Day is a time to celebrate love and friendship with your girlfriends, and this year the Coalers Business Alliance is celebrating from 4-8 p.m. on Thursday, Feb. 10. "This event has turned…
By Christina R. Metcalf If you're like me—and almost everyone else in this country—the end of the year is a time to look back and assess. I enjoy the nostalgia and reminiscing that occurs at this time of year, but it can also be a time of dread. It's a time to realize you either…
A few of the benefits available to those businesses that invest in their company by joining the Chamber...
Are you ready?
Extend your business reach by joining the incredibly successful Grundy County Chamber of Commerce
Are you ready?
Extend your business reach by joining the incredibly successful Grundy County Chamber of Commerce
2022 Family Fest Sponsors