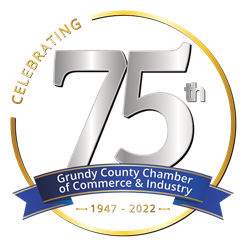 Grundy County Chamber of Commerce & Industry
The Grundy Chamber of Commerce and Industry provides a multitude of services to our communities, but our #1 priority is our members.
 To find out more information on the Coronavirus to keep you and your employees informed, please visit HERE.
COAL CITY – This year marks the fourth year for a Galentine's Day shopping event in Coal City, Diamond and Carbon Hill. Galentine's Day is a time to celebrate love and friendship with your girlfriends, and this year the Coalers Business Alliance is celebrating from 4-8 p.m. on Thursday, Feb. 10. "This event has turned…
By Christina R. Metcalf If you're like me—and almost everyone else in this country—the end of the year is a time to look back and assess. I enjoy the nostalgia and reminiscing that occurs at this time of year, but it can also be a time of dread. It's a time to realize you either…
Dear Chamber Members, With the Illinois Human Rights Act that passed in 2020, businesses and organizations are now required to provide sexual harassment prevention training every year. Linked below is a FREE resource from the the Illinois Department of Human Rights that you as an employer can provide to your employees to meet this obligation.…
A few of the benefits available to those businesses that invest in their company by joining the Chamber...
Are you ready?
Extend your business reach by joining the incredibly successful Grundy County Chamber of Commerce
Are you ready?
Extend your business reach by joining the incredibly successful Grundy County Chamber of Commerce
2022 Family Fest Sponsors