Chamber & GEDC celebrate annual dinner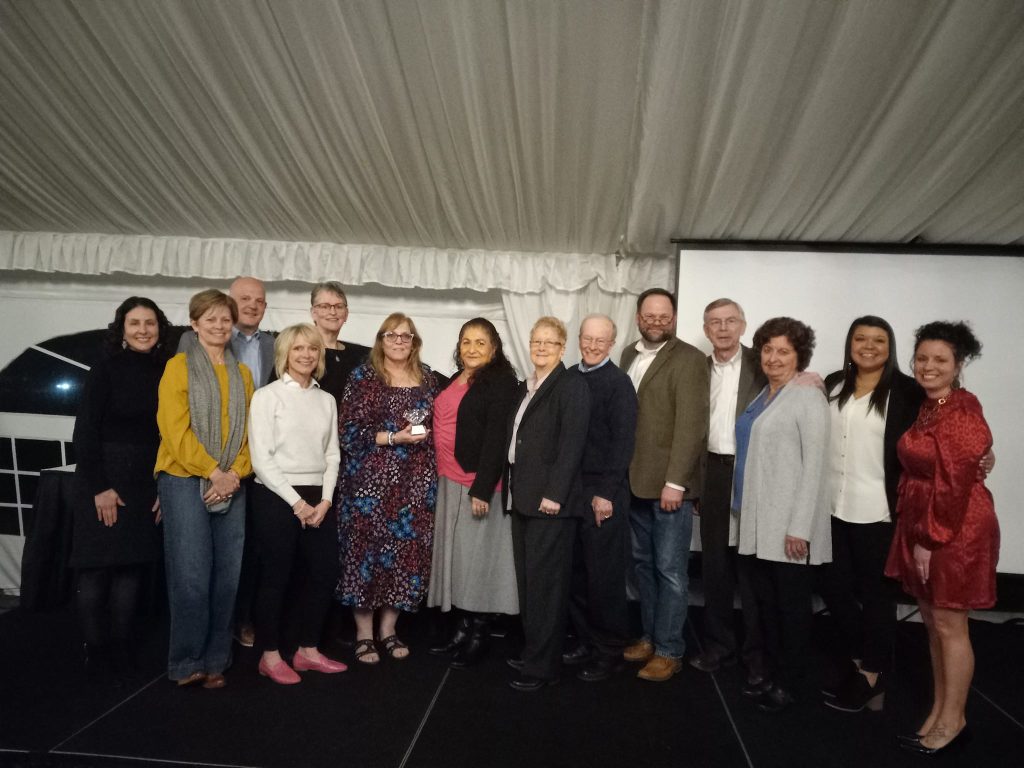 MORRIS – the Grundy Economic Development Council and the Grundy County Chamber of Commerce & Industry's Annual Dinner was a night filled with celebrations for both organizations and the county's local business economy.
More than 290 business and municipal leaders, and guests were in attendance to recognize the organizations' award winners. The evening began with a champagne toast to the GEDC's 30th Anniversary.
"When GEDC started, economic development organizations were a new concept," GEDC Board Chair and Senior Vice President of Grundy Bank Pete Brummel said. "Thanks to vision from the Chamber, Grundy County Board, and business leaders, our organization was started. So I hope you all will have a glass and join me in toasting our partners and board members, past and present. Thank you for your vision, your support, and commitment to economic development."
The Chamber also celebrated a recent anniversary – its 75th in 2022, and ended the year with a new record for membership – 60 new members in 2022, Chamber President & CEO Christina Van Yperen shared later in the dinner.
This year's dinner was sponsored by gold sponsors CPV Three Rivers Energy and Old National Bank, silver sponsors Comcast and Busey Bank and bronze sponsor McCullough Implement.
GRUNDY ECONOMIC DEVELOPMENT COUNCIL AWARDS
Partnership Award
Nancy Norton, President and CEO of the GEDC was joined by Brummel to begin the award ceremony.
In keeping with the 30th anniversary celebration, the GEDC recognized its investors that have been with them since the beginning, recognizing the 30-year partners for this year's Partnership Award. The GEDC has 39 original investors. Those present stood and were recognized.
"Thank you so much to this group that has been the fabric of Grundy County for many, many years," Norton said.
Welcome to Grundy County – Procter & Gamble
The Welcome to Grundy County award recognized P&G and its 1.35 million-square-foot facility that sits on 150 acres in Morris and employs about 500 people.
"Businesses have choices and when they choose to become part of our community, we want to give them a big Grundy County welcome," Norton said. "Today we are happy to have Procter & Gamble here to receive the welcome to Grundy County award."
In 2020 the GEDC first received a request for information for what was then being called Project Heartland. A virtual groundbreaking was held in November 2020 and today it is an up and running facility with state-of-the-art technology and robotics.
"So as you start your day tomorrow and reach for your Gillette razor, Crest toothpaste and Charmin, it may have just arrived from up the road," Norton said.
Oguzhan Orucoglu, site leader at the facility, accepted the Welcome to Grundy County Award for P&G.
GEDC Business of the Year – Mack & Associates
Norton was excited to present the Business of the Year award to local business Mack & Associates, owned by Tawnya Mack. Mack & Associates is a professional accounting firm with clients from Springfield to the suburbs that handles more than 160 municipal audits, 30 school districts and thousands of individuals' returns annually.
"Who buys their first business when pregnant at the age of 26? An amazingly courageous person, that's who, and by her own admission, a bit crazy," Norton said sparking a laugh from the crowd. "It's my honor today to recognize that courage and award the Business of the Year to Mack & Associates."
Tawnya Mack and Lori Pope came to the stage to accept the award.
GRUNDY COUNTY CHAMBER OF COMMERCE AWARDS
Van Yperen and Megan Borchers of LyondellBasell and Chamber Board Chair presented the Chamber awards. Van Yperen thanked everyone for helping to recognize our local businesses and organizations, big and small.
"In 2022 the Chamber celebrated 75 years of helping local businesses. We celebrated our diverse history throughout the year and with an anniversary bash in August. We ended 2022 with the biggest reason to celebrate – we brought on 60 new members in one year – a record for the Chamber in recent history," Van Yperen said. "This is a testament to the Chamber team, its volunteers, supporters and our business community as a whole."
Chamber Business of the Year – Cuttin Edge Lawn to Landscaping
Cuttin Edge Lawn to Landscaping was recognized as the Chamber's 2022 Business of the Year. Owner Blake Becker began the business as a way to make money after high school while he waited to get into the trades. But before he knew it, the side work turned into a full business.
"Within a few years he married his wife Brittany and now 14 years later they've grown the company to a full-on commercial and residential landscape design and installation company," Van Yperen said. "Today Cuttin Edge has 20 employees who not only provide lawn services and landscaping, but also do hardscapes, excavation, and commercial snow removal. In '22 they landed their first municipal contract doing snow removal for downtown Morris. They are proudly now offering shoreline renovation as well."
Cuttin Edge prioritizes giving back such as sponsoring local fundraisers and recently donating $25,000 to the Morris YMCA Building Campaign.
Blake and Brittany Becker accepted the Chamber's Business of the Year Award.
Entrepreneurs of the Year Award – Maggie and Eric Schutz and Christen and Colt Snodgrass of Iron & Glass
This year's Entrepreneurs of the Year are Maggie and Eric Schutz and Christen and Colt Snodgrass of Iron & Glass in Minooka. The partners started out as neighbors who developed a friendship over playdates and beer. By December 2016 a love for beer and providing experiences turned into their first business – Iron & Glass Tap House in Romeoville. The success of this first location made the friends want to open a watering hole in their own town. By February 2020 they opened their second location, but due to the pandemic did not have the first year they pictured. The partners pushed through and now feel like 2022 was the first year they could actually do what they planned – provide a place for people to experience different beers, and each other.
"Inside Iron & Glass you will not find a wall filled with televisions. The music is not blaring. When you sit at their bar you will make friends with the staff and the people sitting next to you. And you will make friends – it happens naturally there because of the environment they provide," Van Yperen said.
"Maggie, Eric, Christen and Colt – to you it may feel like your first year getting to accomplish your goals. But to your customers and your community, your impact feels like a lifetime of fun, eventful and meaningful experiences," she said.
The local business puts their community first – doing monthly fundraisers at their bars for area charities like Chinook Wish, as well as donating to the area schools. They even started a volunteer club with their customers to work on area projects together.
All four partners accepted their award.
Organization of the Year Award – We Care of Grundy County
This year's Organization of the Year is nominated almost annually, Borchers said. We Care's daily work is award-worthy. In 2022 alone they served over 4,500 individuals through the food pantry; gave more than $100,000 in rent or mortgage assistance, served almost 700 children through the Christmas and Back to School programs, and helped another 118 individuals through their education and Pathway to Hope programs.
We Care's mission doesn't stop at emergency assistance. Their mission is to empower those in need. In 2022 it began the Girls Self-Empowerment Group led by social workers to build the self-esteem of girls and young women, teach them about healthy relationships and working together. About 35 girls went through the program. In addition a partnership with NAMI began to start family-to-family classes to help family and friends of people with mental health conditions. These are just two examples of the partnerships We Care continues to create for community programs.
"As you can see, We Care's motto of 'A helping hand, neighbor to neighbor,' continues to be its driving principal. What We Care looks like today, Eric says has been 40 years in the making originating with Founder Shirley Kiss' dreams and goals, and achieved over the years by We Care's staff, partners and its volunteers," Borchers said.
Executive Director Eric Fisher accepted the award on behalf of We Care.
Ambassador of the Year – Christine Mendez of Grundy Bank
Chamber Ambassadors serve as liaisons between Chamber members and staff. They gather feedback and answer members' questions during calls and visits they make throughout the year. The Ambassador of the Year award is presented annually to an individual who has most effectively fulfilled their responsibilities as a Chamber Ambassador. This year's Ambassador of the Year is Christine Mendez of Grundy Bank.
Borchers closed out the dinner thanking the businesses that have grown, entrepreneurs who have taken risks and organizations that serve this county.