Chamber Business Spotlight: HUSH Salon on Sage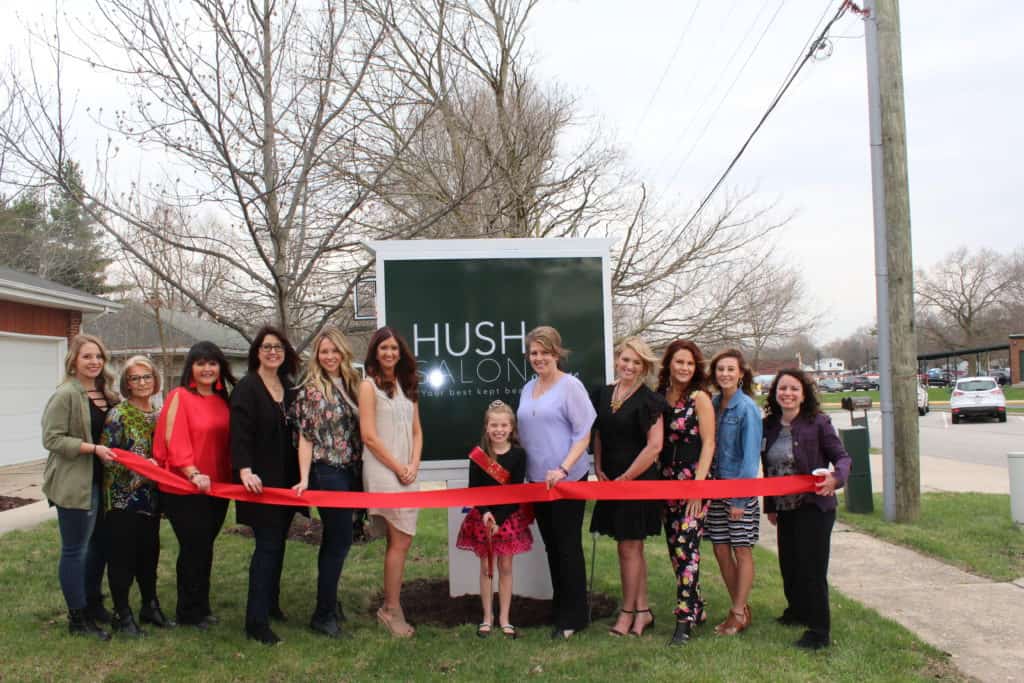 CHANNAHON – The Channahon Minooka Chamber's recent Business Spotlight highlights HUSH Salon on Sage.
The new salon is located at 24913 Sage St., Channahon and is open Tuesday through Saturday by appointment. The salon has been open for three months and has seven stylists, one receptionist and one on-call make-up artist.
"We are a high-end hair salon that features local, talented and experienced stylists who are dedicated to making our clients feel beautiful and pampered," Owner Hayley Pope said in a news release. "We pride ourselves on listening to our client's wants and needs and creating an experience that will add to our list of loyal, satisfied customers."
The Channahon Minooka Chamber, a part of the Grundy County Chamber of Commerce & Industry, held a ribbon cutting ceremony in April to celebrate HUSH Salon on Sage's grand opening.
To open the salon, Pope remodeled a 1950s ranch home providing a comfortable and unique environment for clients to be pampered in.  Pope and her team are proud to say they used all local contractors during the renovation process.
"We welcome HUSH to the Chamber with open arms," said Christina Van Yperen, Chamber Executive Director. "Stepping inside HUSH Salon on Sage is like walking into a little escape. It has a country feel with a modern twist and provides services for everyone."
HUSH Salon provides hair styling for the entire family. This includes hair-cuts, permanents/texture treatments, hair coloring, formal styling, and waxing services. Complimentary shampoos are offered for all hair services in its spa-like shampoo room. The shampoo room features relaxing music, dim lighting, and a warm towel head massage. Services are offered by appointment for personalized experience, but they will accept walk-ins when available. HUSH Salon emphasizes a customer-centric service where the customer's needs are always the priority.
Future plans include promoting the newly renovated porch area. HUSH Salon's vision is to sell local organic pure products. Goat's milk soap, soy candles, skin care items, bath bombs and unique gift items will be among the product selections. The space will also offer wedding and special events parties a unique place to relax and enjoy their special day while receiving makeup and hair styling services.
"Because we are a hometown team, we are dedicated to our community and supporting local causes. We understand the importance of giving back and are looking forward to being an example of hometown pride," Pope said.
For more information on HUSH Salon on Sage call at 815-828-5871.
For more information on the Channahon Minooka and Grundy County Chamber visit grundychamber.com, call 815-942-0113, or download the free Grundy Chamber App.