Chamber Anniversary Feature: Feeney Package Liquor
As the Grundy County Chamber of Commerce & Industry celebrates 75 years of building, connecting and engaging our business community, we are recognizing some of our longest members who have helped us to succeed.
Feeney Package Liquor is a fourth-generation family-owned liquor store celebrating 90 years in business in downtown Morris!
Feeney's is located at 209 W. Washington St. in Morris and has a wide selection of beer, liquor, wine and specialty foods. It also carries brats and sausages from Ream's Meat Market and specialty cheeses from Avanti foods.
"My great-grandfather started the business in the early 1930s. Our family grew up here. We are a part of the community," Owner Mike Feeney said. "We appreciate and value our customers and the community. We take pride in doing things the right way and giving back to others."
The Chamber's years of success is due to its committed membership of hundreds of businesses across the county like Feeney's. Thank you Feeney Package Liquor for your support and engagement through the years.
Save the date for the Chamber's Jewels & Jeans Anniversary Celebration Aug. 25, 2022 on the grounds of the Chamber's Morris office.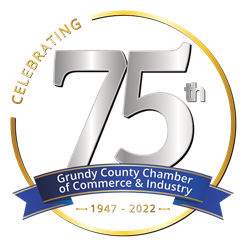 If your business if 50 years or older, the Chamber wants to spotlight you. To submit your business for the Business Spotlight, please click here. Please also send a photo or two of your business/employees from the early years to [email protected].